Have you ever heard of online price parity? No? The oddest thing is that I hadn't heard of it either, until last Friday.
That's the day an advanced copywriting course I had been salivating to take with one of my fave online marketers, Chase Dimond, went live.
I was already prepared with my credit card. It had been advertised for $450 US, and I knew it would be worth every penny.
I had been following Chase for years, first on Twitter, and then I got onto his newsletter list.
Over the years,  every single piece of advice I implemented from his free courses and blogs worked,  so when I tell you I was salivating for this particular course, that's the mildest descriptor I can think of.
Anyway, as I was saying, when Chase's course went live I  had my credit card in hand, all set to go.
***Listen he could have been selling snowcones and I could have been an Eskimo, I was buying whatever he was selling.***
As I began reading through his website copy a message popped out onto the header bar.
It said: "Hey Judette (yep automation should be personal) I see you are in Trinidad and Tobago, which means you are eligible for our Price Parity Plan. Please use this code and get 50 % off your purchase!
Huh! I read that again and again, you know, just in case…
But it wasn't a trick and it wasn't my eyes. I don't think I've ever done an online checkout so fast. Sure enough, I got the course for $225.
What a steal! How fortunate for me. And what a cash cow for Chase!
Obviously, Chase reads his data.
He knows his customers come from different parts of the world, and that every dollar is pegged differently to the US, so he is giving his customers a price point to compare and reference that increases his chances of making the sale.
What floored me was the customized message I received and the reason articulated. I actually felt as if Chase cared.
So that got me thinking: Is there anything that we, as small business owners can learn from Chase's strategy?
There is.
When you're selling online and your customers go over to your BUY button and they are distracted by the YouTube, their husband shouting something from the other room, or the dog peeing on the carpet, the only question they ask, and very distractedly too:
Is this a good deal?
Chase used copy to entice me. As for bigger companies like Amazon, they can do it without a single word.
The Why We Buy blog gives a great example of how Amazon strikes out the original $149.99 price and shows the $119.69 sale price for a smart mug.  Check it out below. Suddenly, you'll feel like an electric mug that costs more than $119.69 is too expensive to get and not much of a deal, anyway.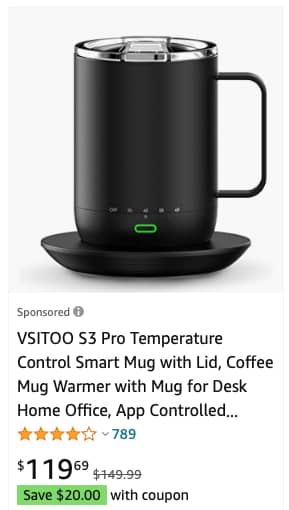 Clever, right? This brings me back to the psychology of online sales and understanding how we can apply it as small biz owners.
Some Ideas To Price Your Products and Services Online
1) Price Juxtaopostion:
Put your less expensive product or service you're selling at the moment right next to a higher-priced but similar item you sold in the past.
2) Give Bonuses.
 Tally up the value of the freebies you're giving away with your paid product/ service. Tell your customers that when they buy product X they'll get Y as the Freebie.
Attach a value to that freebie or bonus deal that's higher than the price of what you're selling. Be honest.
3) Create a Separate Sales Page
My developer. Nouman. taught me this one when he created different sales pages (for the same product) with different discounts and linked them to different customer journeys.
For instance, I have a special price discounted page in my Planning Lab for those folks on my email list.
As small business owners, we have to look to the greats and adjust and implement their strategies where we can. So thank you, Chase, for the sweetest of deals. see you in the course.
P.S. I'd love to hear from you, how do you entice people to shop from your landing page or website or via your DMs?
Write me in the comments, I can't wait to read all your suggestions.