As a content creator, you already know that whatever blog post, video, image or story you create, it all begins with an idea. But what if you have too many ideas? What if there are too many platforms, too many to-do lists to get through and too many audiences to serve?
I get it, your questions and fears are real. The thought of creating content on a daily can be overwhelming and in the end many get stuck, either not creating content at all, or serving up lackluster posts just for the sake of showing up and being consistent.
I used to go down that same rabbit hole but no longer. To become the best content creator in your industry is entirely doable. After years of churning out content, I've figured out the method to what may seem like madness, though it really isn't. What you really need are five core things: Knowledge; An Ability to Listen, Great Planning Skills and Tools, and a Distribution System.
STEPS TO BECOME A SUCCESSFUL CONTENT CREATOR:
I'd like to dive into these 5 tips with you so you can start making killer content for your digital platforms and become the successful content creator in your industry. And guess what? You can do it without all the overwhelm.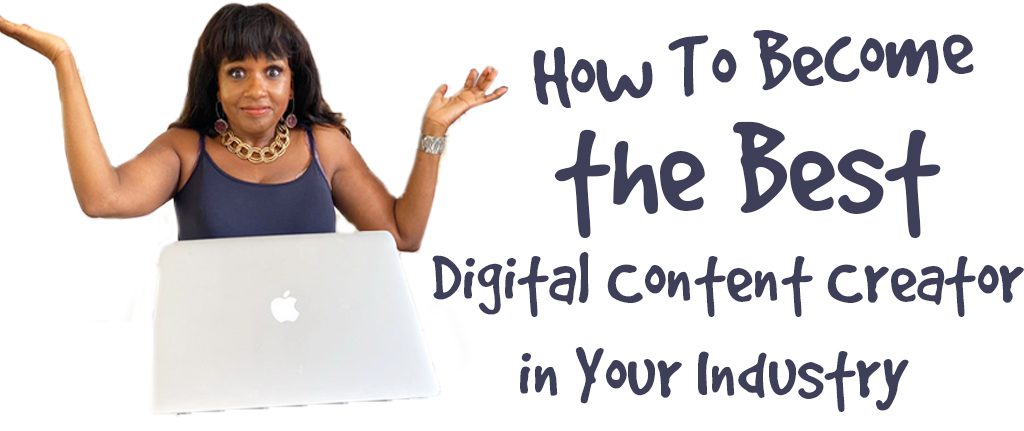 1. Great Content Creators Know The Business
The first stop on your way to becoming the best is to focus on the business and not just the glossy, pretty images we often see on Instagram. Instead get deeply familiar with the numbers, the mission, vision, the people, that make up the brand you're serving. Knowing every facet of the industry you're in will help make you a better digital content creator.  I always talk about this when giving talks because it is SO important.
Think about it: what better way to become an exceptional online content strategist than by knowing every facet of the business which you are serving whether you are doing it from the client or the personal brand side.
For example, when I took on managing the social media account of a regional fertility clinic in the Caribbean, I made sure I understood the science being infertility, the emotional turmoil the women and couples went through, the process of undergoing fertility treatment, the joys associated with success and the pain that occurred when the process did not work out for a couple.
My team read endless articles, researched topics and got super familiar with the medical staff at the clinic. We knew the stories worth telling.  We grew the account from 0-50,000 highly engaged fans (those were the days when Zuckerberg did not make us pay to play) simply because we were hungry to know the business and never stopped learning for the four years we handled that account.
Content creation depends on your ability to communicate clearly what you know. You can do it matter-of-factly, humorously and even inspiringly. Whatever the tone, your ability to connect and engage (and isn't that why we do what we do) begins first and with how much you know and secondly how well you can communicate.
2. The Best Content Strategists Listen Well
Remember how I began this article by telling you that every single piece of content begins with an idea. Ok, but sometimes the best ideas don't necessarily come from you. I know that sounds a bit off given that you've spent so much time soaking up all the knowledge you can about your industry.
But I really think content inspiration also comes from the people you serve, your tribe, the people who follow and listen to you. If you think about it for a second there is always someone on your page asking questions or requesting specific information or wanting some detail about something. You can use that as inspiration for your next blog post, IG post, video or to create the next BIG thing.
Being the best digital content creators in whatever industry you're in requires that you listen well and are responsive to your audience's needs. The best thing about this is that all these social media giants: Facebook, Instagram, Snapchat, TikTok have made it very easy to do this via interactive tools like polls, quizzes, questions, etc.
So go ahead and ask your followers what questions they have, who they would love to hear from, what certain topics they've been dying for you to create! It really is that easy!

3. The Best Content Creators Plan
Once upon a time, I used to be like that hamster on the wheel. When it came to posting and thinking about content I felt like I was going around and around in circles, posting every day, checking metrics, answering questions, thinking, breathing and sleeping content.
That one was a real crusher for me, I felt like I needed to blog 4 days a week and if I didn't I'd somehow be considered a failure. Do you feel that way too?
Well, those feelings ended when I mastered content planning.  I wanted to stop the overwhelm, be strategic with how I planned and fall in love with content planning all over again.
I created the Social Media Planner, a physical book, and a series of PDF guides to help me and others get out of the rabbit hole and become more focused on the quality of my posts. The system contained the book allowed me to shine and become prolific at what I did for Forward Forty and the other brands I serve.
My biggest tip here is to only plan content rigorously and do it with purpose. For example, one Sunday a month you can plan all your content for 4 weeks by asking yourself key questions like What do I want this month's content to do: could I use this week's content drive the bottom line, bring people to my site, have them download a freebie, or create trust, etc?
Most of your content should be goal-focused and that only comes with good planning.
4. Successful Content Creators Enjoy People
To become the best content planner in your industry you must know how to take fleeting relationships and make them last.

Ok, hang on. Look at your website for a second. Imagine having visitors come to your website and leaving after they glance at your home page. That's like inviting someone over for dinner at your house and serving them a burnt meal with no dessert.
You're not giving your visitors any reason to linger. So if you have a visitor who landed on your site because of a YouTube video, or a Pinterest or Facebook post, you want to make sure the visit isn't the be-all and end-all.
The best content creators are consumed with building relationships. So go ahead and answer every single question in a non-generic way, call people by names, aim to get your followers onto your email list and so you can continue or start the conversation and most importantly, create freebies for them to linger.
Check out this quiz at the top of my home page for instance. Freebies like this are so important.
The guru of relationship building Jenna Kutcher says if visitors stumble on your site, "it's not likely they will find their way back again organically so creating an irresistible freebie related to the article they are reading is the best way to get them to hand over their email address so that you can drop into their inbox with more content!"
Once you truly grasp this secret the relationships you enjoy building with strangers will last a long time.
5. The Best Content Creators Know How To Repurpose
Knowing trade-off between time and attention is key if you want to get really good at the content game. The folks who are magical at it know that even their most loyal followers are not switched on every day, much less the most casual among them and let's not forget there are new people joining your social media platforms every single day.
Good content creators repurpose like the queens they are. So cycle through old stories and images, tweak captions, repin things, redo the timestamps on your blog posts, share your content again and again and again. The way you distribute, repeatedy is as important as the way your create.   Repurposing content will increase the traffic to your site, get more eyeballs on your products and it will save you time when you're in a crunch.
So now you know. These are my top five tips for being the best in the business. You have the tools, maybe I've even bought you some time. Now go forth and create!
Thanks for reading! If you enjoyed this article, say hello on