When I was packing my suitcase for a two-week whirlwind trip to South Africa, my vibrant fuchsia Meiling kimono was the first piece that went in. 
Crafted from a cotton blend with a single silver loop as an accent, it turned out to be just what I needed for Cape Town's temperate weather and relaxed, laid-back vibe.
Not only could I have paired it with everything from a classic pair of jeans to my African print swimsuit, this particular Kimono even worked back to front. 
In the front,  it looked like any stunning wrap dress, but when turned around, the V-shaped neckline sunk deep at my back and the high collar became a focal point at the front with its singular silver loop.  
With its billowy sleeves, and a belt I could leave either on or off, I knew this piece could take me from day to evening, from a mosque to a beach and that's exactly what it did during the weeks I spent in Cape Town. 
Another reason why this lightweight, T-shaped garment was high on my style radar was because of the grace and quiet sensuality it brought. 
Even though I was fully clothed in it, I felt incredibly sexy. 
Now going a little bit off-book as I did with mine, and wearing it back to front, off-shoulder, requires some fashion risk-taking.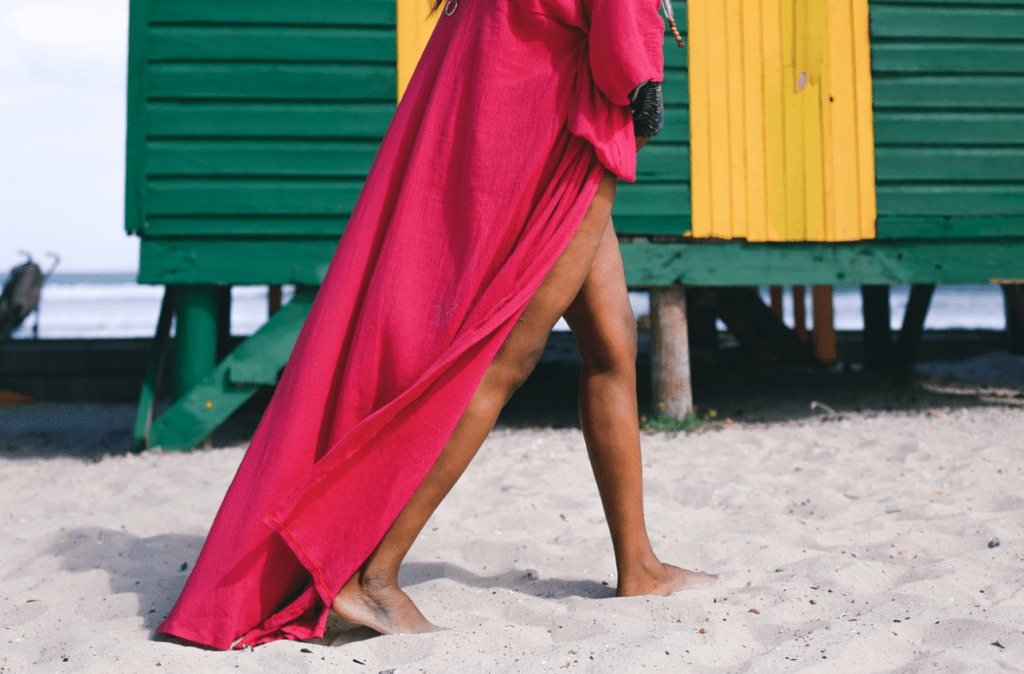 SWITCHEROO- STYLING THE KIMONO
But isn't that what fashion is all about? Seeing something and then adding your own personality to it. 
I think there is twice the creativity and badassery when you put your own signature on a designer piece and when I paired the kimono with a statement bag and strappy heels, I was ready for a day of sight-seeing and soul-searching in the culture-rich Malay quarter of Bo Kaap.
It fit in with the brightly-toned hues of the quarter, and more importantly, was a modest and appropriate choice for my visit to some of the homes in this storied, tight-knit Muslim community in which I was invited to eat.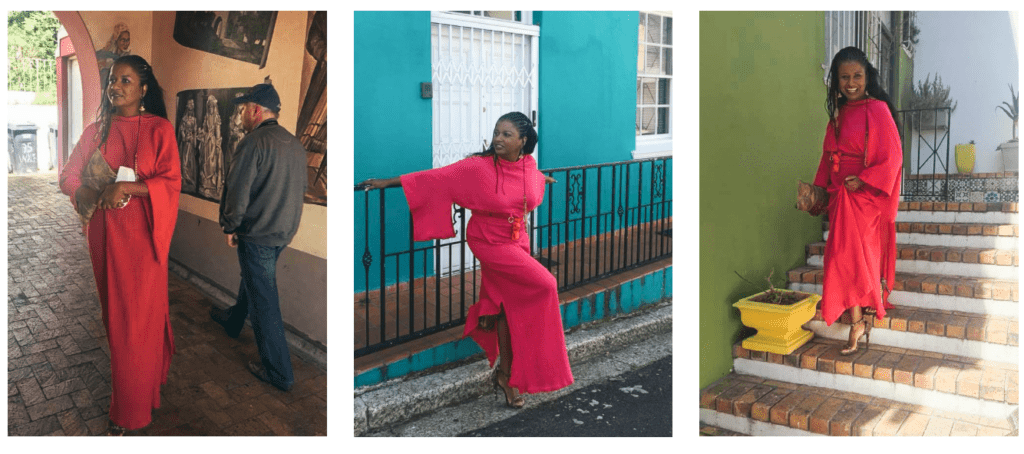 The kimono also doubled as a beach cover-up over my swimsuit the day I headed out to Muzienberg, a beachside suburb of Cape Town.  
Even though it was sunny,  there was decided chill in the air which made my billowy number a perfect choice not just for the Instagrammable appeal but more practically, for the warmth and the coverage. 
I accessorised my beach look with some transparent eyewear,  silver hoops, and a straw hat for good measure.
Bless my overeager maximalist heart.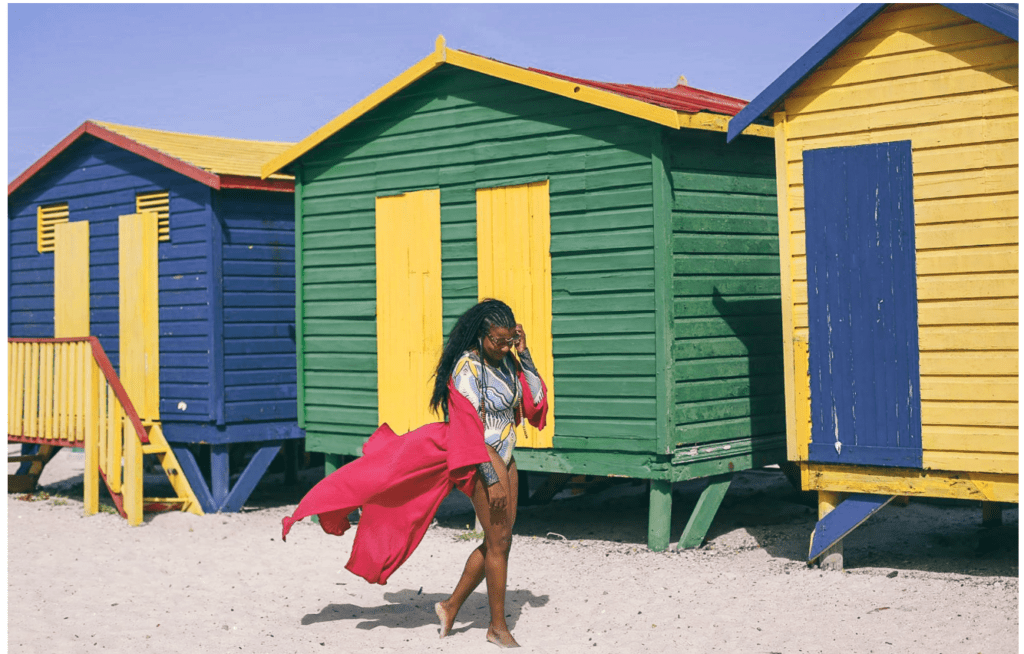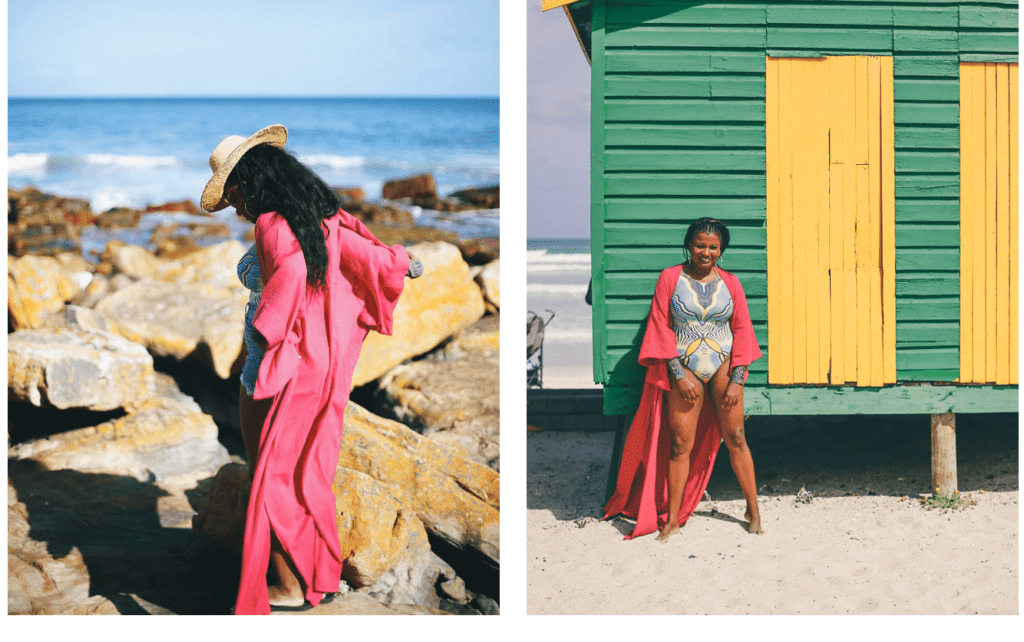 The kimono also took centre stage when the weather warmed up and I wanted to linger a while on the silver sand beach. 
Thankfully my Meiling number was not silk so it did the trick and became another non-traditional way I could use it with style. 
Kimonos are no doubt my current fashion obsession. In a print or solid,  in cotton or silk, their versatility makes them a style star which is exactly what I wanted when I headed to Africa.